Backend Web Developer (DK)
Vil du være med til at udvikle nogle af Europas mest moderne eCommerce løsninger i .Net? Har du lyst til at arbejde direkte sammen med kunden og får du et kick ud af at hjælpe folk med at lave nogle fede websites?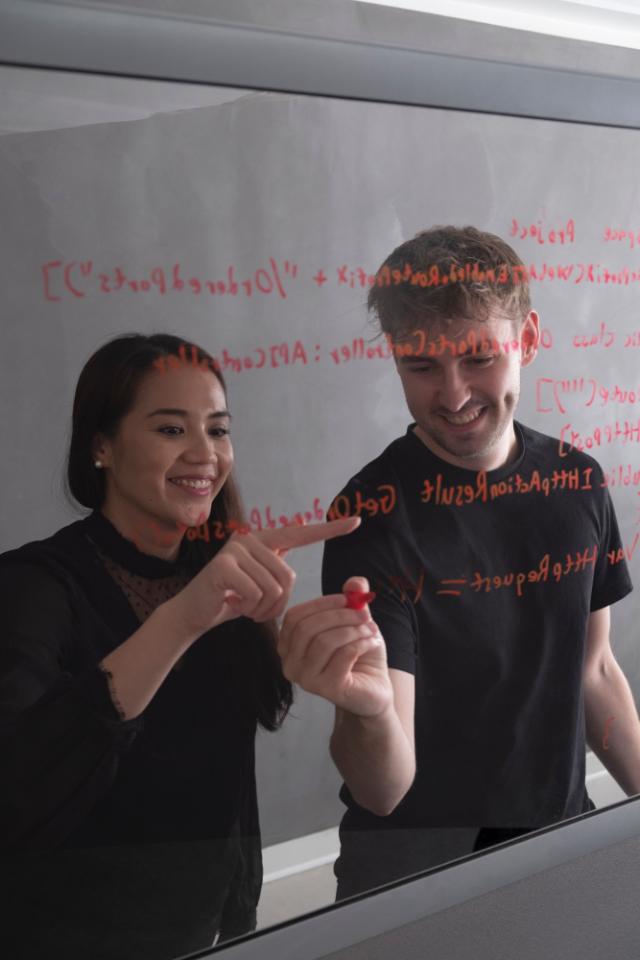 Dit team – din hverdag
Du bliver en del af et projektteam, der konfigurer og udvikler eCommerce-funktionalitet. Du bliver en del af vores Professional Services team, som står for implementering og videreudvikling af nye og eksisterende kunder. Vi arbejder tæt sammen med vores Product Development team og Customer Care teams og bistår således vores partnere og direkte kunder via opsætning, uddannelse og service i deres webimplementering.
Vores arkitektur er baseret på HTML, CSS og JavaScript, som er en del af DynamicWebs egen platform, som er bygget i .Net 6 og C# med Dynamics NAV, BC, AX og CRM som bindeled.
Platformen ligger på Microsoft SQL Server. Vores opgaver og tid er styret via Microsoft VSTS og GIT og vi arbejder i Visual Studio for at sikre en lækker front-end.
Din værktøjskasse indeholder:
Gode .NET og C# kundskaber - og måske har du erfaring med front-end udvikling.
Stor faglig stolthed, hvilket afspejles i din tilgang til implementeringer.
En naturlig evne til at styre din tid med flere projekter på en gang.
Muligt kendskab til MS Dynamics serien (primært NAV & AX).
Din personlighed er vigtig for os!
Det er vigtigt for os, at du har det godt hos os og du kommer til at passe lige ind, hvis du har et konsulent-gen og også:
Er en teamplayer, som tackler udfordringer med en optimistisk tilgang
Håndterer vores partnere med en lyttende og forstående tilgang.
Trækker på dine kollegaers kompetencer for at nå fælles i mål
Vi tilbyder
Du kommer til at arbejde med nogle af de dygtigste webudviklere, og bliver en del af et miljø, hvor vi afvikler tech-talks og daglig sparring på tværs af mere end 50 in-house udviklere. Vi arbejder med en af markedets førende løsninger indenfor CMS og eCommerce. Vi sikrer en onboarding, der giver dig det bedste afsæt for succes. Du kommer desuden til at arbejde sammen med Danmarks måske flinkeste kollegaer i en uformel struktur med et afslappet og humoristisk arbejdsmiljø. Derudover har vi en PlayStation, kantine, frugtordning, velorganiseret fester og brætspilaftener.operative and flexible - we work on the customer's terms.
Vil du være med på holdet?
Er det her chancen, du har ventet på? Send dit CV og en kort motiveret ansøgning hurtigst muligt, hvor du fortæller os, hvorfor du er kandidaten, vi har ventet på. Vi besætter stillinger løbende og ansætter, når det rette match er fundet.
Er du blevet nysgerrig på at høre mere om jobbet, er du velkommen til at kontakte Director of Delivery, Thea Vibe Andersen på tva@DynamicWeb.dk
​Vi glæder os til at læse din ansøgning.
Om os
DynamicWeb er et softwarehus, som udvikler en cloud-baseret digitale platforme, altså de hjemmesider du normalt shopper børnetøj, værktøj eller lignende på. Vi sikrer, at vores kunder leverer bedre digitale kundeoplevelser gennem bl.a. Content Management, Digital Marketing, eCommerce og Product Information Management løsninger.
Vi er Danmarks største SaaS eCommerce leverandør og omkring 150 medarbejdere globalt.
Vores hovedkontor ligger i Aarhus, hvor du også vil have din daglige gang. Vi har kontorer over hele verden og du bliver en del af et internationalt hus med kollegaer i bl.a. Norge, Holland, Asien og USA.