Development Experience Manager (DK)
Do you want to make create, engage, and excite a large software community and make the DynamicWeb Platform the preferred toolbox for developers?
What you will be doing and why
DynamicWeb is the biggest eCommerce SaaS platform in Denmark with a large partner network throughout Europe, Americas, and Asia. We have a huge opportunity channeling more resources into our partners, who are eager to develop headless implementations and use the DynamicWeb platform to build digital marketplaces for companies worldwide.
We only succeed when our partners realize the potential that lies within the DynamicWeb Platform. Therefore, we need to keep a strong focus on our developer community and make sure to be the number one choice for developers implementing eCommerce, CMS, PIM, or Online Marketing solutions that are cloud based using headless.
This means that you will:
Educate the organization and partner channel in Headless
Create a dazzling developers' program and spend 50% time in the partner channel
Bring a product to market that developers want to use by listening to their needs and implement changes directly into our own product roadmap
Ensure we define what developers want, (i.e., tools, examples, documentation and environments) and make it happen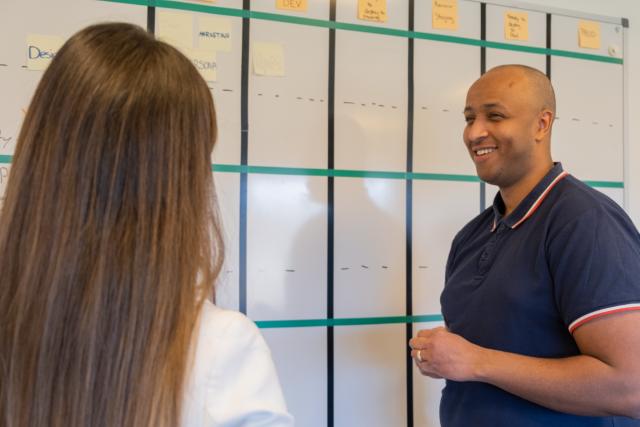 Join a developers' community
You will be part of the Product Development team and join a thriving culture with a highly social work life and a focus on knowledge sharing.
We work closely with our Partner network and Customer Care teams and assist our partners and direct customers via setup, training, and service in their web implementation.
You will be working closely with one or two core developers developing the API and implement the market feedback, one or two frontend developers to create exemplary frontend implementations, and you will have one student worker doing the documentation for the developers.
Our architecture is based on HTML, CSS, and JavaScript, which is part of DynamicWeb's own platform, built in .Net 6 and C# with Dynamics NAV, BC, AX and CRM as links.
Your personality is important to us!
It is important to us that you are thriving, and you will fit right in if you have a developer's DNA and a tech evangelist mind-set. Therefore, we are looking for someone who would enjoy to:
Handle our partners with a listening and understanding approach
Is a team player who tackles challenges with an optimistic approach and who is good at drawing on the skills of your colleagues
Appreciate a strong collaboration with people and want to join a crowd who actively participates in social events
We offer
You will work with some very talented software and web developers and become part of an environment where we run tech talks and daily sparring across more than 50 in-house developers.
We will build your onboarding program specifically to ensure the best start for you to become a success in the role. You will also work with perhaps Denmark's nicest colleagues in an informal structure with a relaxed and humorous working environment and be among the pioneers in Danish eCommerce.
We do Digital Solutions
DynamicWeb offers an industry-recognized, cloud-based Digital Platform. We enable customers to deliver better digital experiences through our Content Management, Digital Marketing, eCommerce, and Product Information Management solutions.
DynamicWeb's 300+ partners, 200+ employees in offices all around the globe are proud to support well over 4.000 brands. You will be working from our HQ in Aarhus, Denmark with some of the best Product Managers, Software Developers, Sales, and Marketers.
work on the customer's terms.
Apply now!
Is this the chance you have been waiting for? Send us your application today and don't forget to tell us why you would be a great addition to our team – we look forward to hearing from you! If you have any questions, please contact CTO, Nicolai Høeg Pedersen at NP@DynamicWeb.dk
Send your CV and a short-motivated application as soon as possible, as we regularly call for interviews.
We look forward to hearing from you.